By JasmineZhang |
03
December 2021 |
0
Comments
Guangzhou ZhongDa Fabric Market
Guangzhou ZhongDa Fabric Market
Today we are going to check one of the biggest fabric wholesale markets in China, the Zhongda fabric market which is the most famous fabric market in China. And it's huge.
The construction area
covers nearly 1,000,000 sq.m
,
so today we are going to help you to know more about it.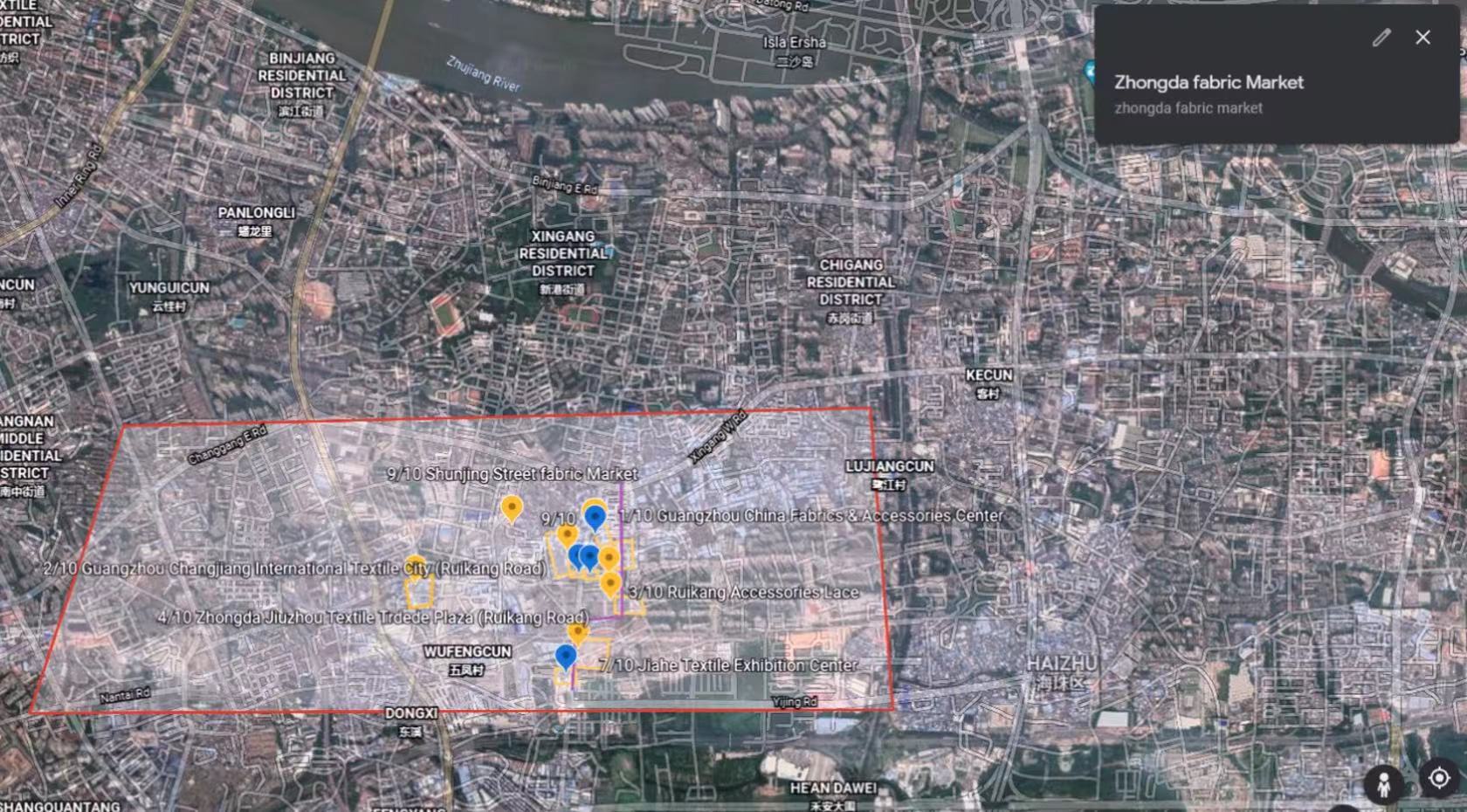 We can check out Google Maps, the area is huge, all these areas belong to the Zhongda fabric market.

History of Guangzhou Zhongda Fabric Market
1987, Zhongda Fabric Market is originated in Guangzhou city, a group of people moved into a deserted area which is near Zhongda University(Sun Yat-Sen University), to continue their illegal fabric stall business, they never expected it becomes into world largest fabric wholesale market, now the whole area consists of nearly 30 different textiles and accessories markets.
The market developed slowly but everything was in disorder till the year 1996, Guangzhou Municipal Government started standardized management and reformation, they built some simple temporary constructions and the vendors moved inside. In the meantime, another wholesale market named "China Textile City" in Keqiao Zhejiang was flourishing, Zhongda Fabric Market was still fading in weakness.
In the year 2001, the Zhongda market came into a booming period, Guangzhou government put it into the municipal development program, the market was expanded rapidly. Till today, it covers more than 1,000,000 square meters of the construction area and more than 100,000 people work there, announcing itself as "world fabric trade center". The wholesalers there sell not only textiles but also varieties of garment accessories for the clothing industry. To some extent, it's also an overextended fabric market, some new buildings which are far away from Guangzhou International Textile City (the business center) are not really prosperous, some shops actually are used as warehouses.


There are more than 30 different wholesale markets, Today we will check out 10 main markets here.
1. Guangzhou China Fabrics & Accessories Center
Add: 2 Jinfang Rd, Haizhu District, Guangzhou, Guangdong Province, China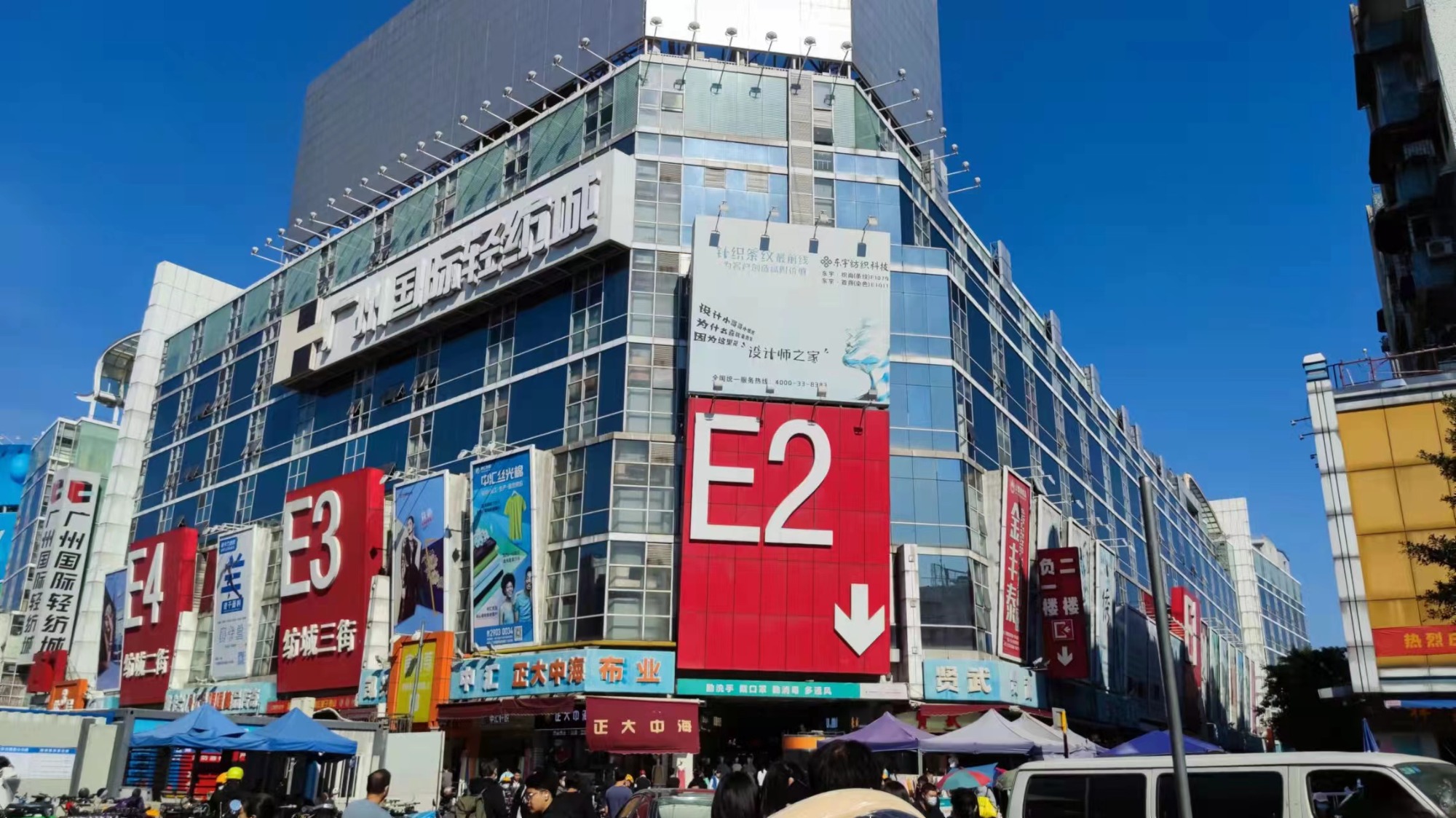 There are total 6 sections including A,B,C,D,E,F. Each building has 9 floors. two floors underground and seven floors above ground. The total construction area is about 310,000 square meters.
The negative first floor of the building is mainly for accessories, like Button, Zipper, Thread, Label, etc,

and the second negative floor is the parking area;

the first floor to the third floor is mainly the place for various fabrics, the section A and B Cis for Knitted fabric, Printed knitting [printing, tie-dyeing, hanging dying, burning flowers, stripes...]and sections DE and F are for Woven fabric. Pure color is woven [chiffon, silk, plain weave, twill, cotton, polyester, fleece, woolen cloth, polar grain...]
If you need to find a pure-color knitted fabric, you can go to check the shops nearby the outside Road.
The nearby shops are all good to check. The types of fabric are similar, The price will not have too much difference if your quantity is not too much, MOQ for one type is one color one roll, cannot separate the roll.

2. Guangzhou Changjiang International Textile City (Ruikang Road)
Add: Haizhu District, Guangzhou, Guangdong Province, China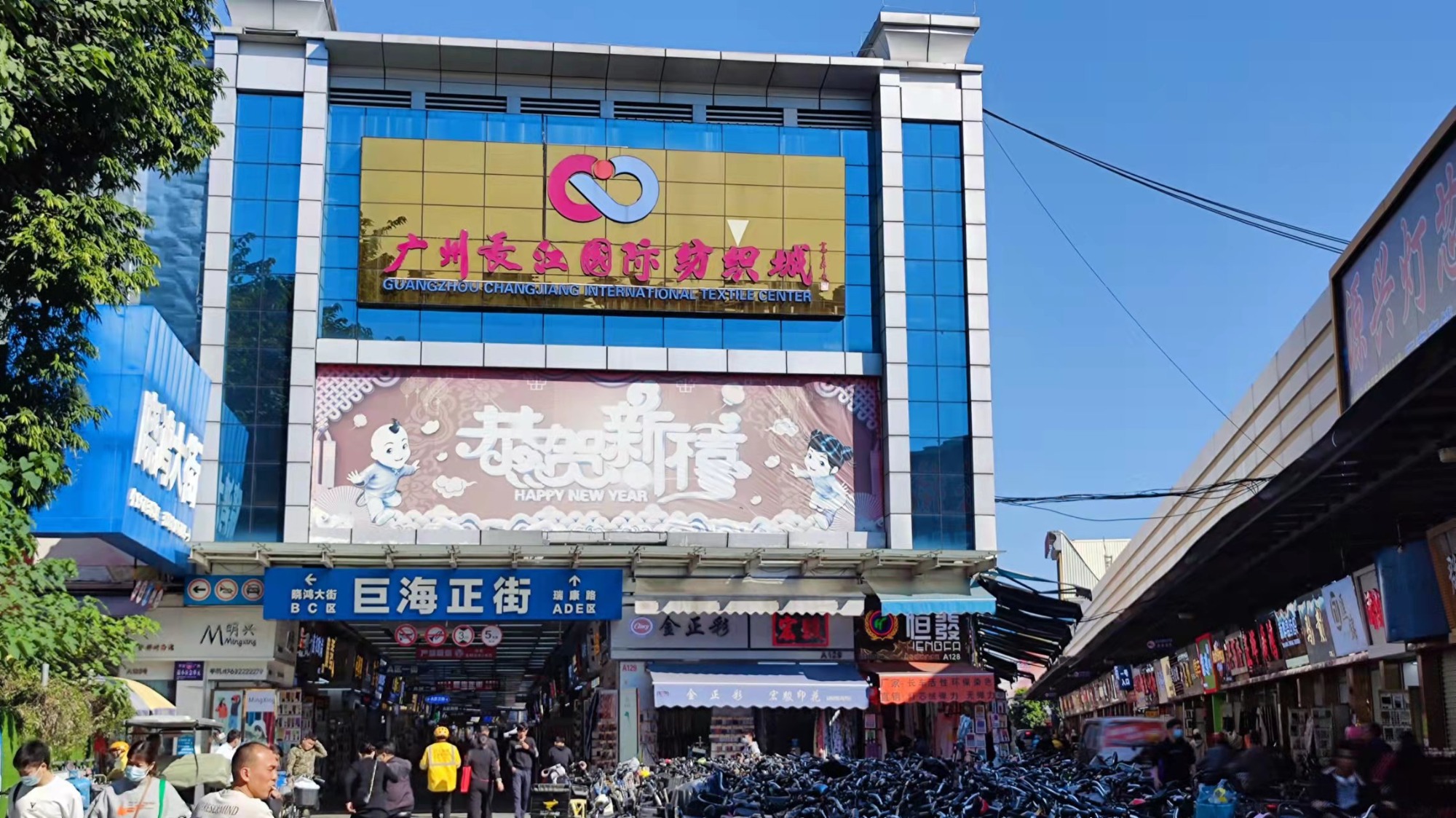 It is exactly opposite to Guangzhou International Textile City, it was combined by two old markets, D/E area near to Rui Kang Road was "Rui Fang", A/B/C area in the behind was "Xiao Hong", they are combined into a big market and the local people normally say "Lao Chang Jiang".
There are 5 sections in this market. A,B,C,D,E
Section A and B are for cotton fabric, checkered fabric, shirt-cloth. Woolen
Section C there are some clothes shops and tapestry fabric.
For section D also for cotton, checked, shirt-cloth. And Section E is fur&furry.
Vendors here sell all types of fabrics but most of them are low-end. Compared to the market on the other side of Ruikang Road, the price for the same stuff here is cheaper but the fashion trendsetters probably will feel boring.
The first and second floors are for rayon, apparel fabric, cutting motif fabric, chiffon, printed cotton, embroidery, cotton, jacquard, woolen fabric, T/R fabric..etc
And the third floor is mainly for curtain fabrics, sofa fabrics, sheer fabrics, voile fabrics, hotel fabrics, curtain accessories, etc. Also for some finished products like bedclothes, blankets, etc.

3. Ruikang Accessories Lace
Add: Wufeng Dongchang Main St, Haizhu District, Guangzhou, Guangdong Province, China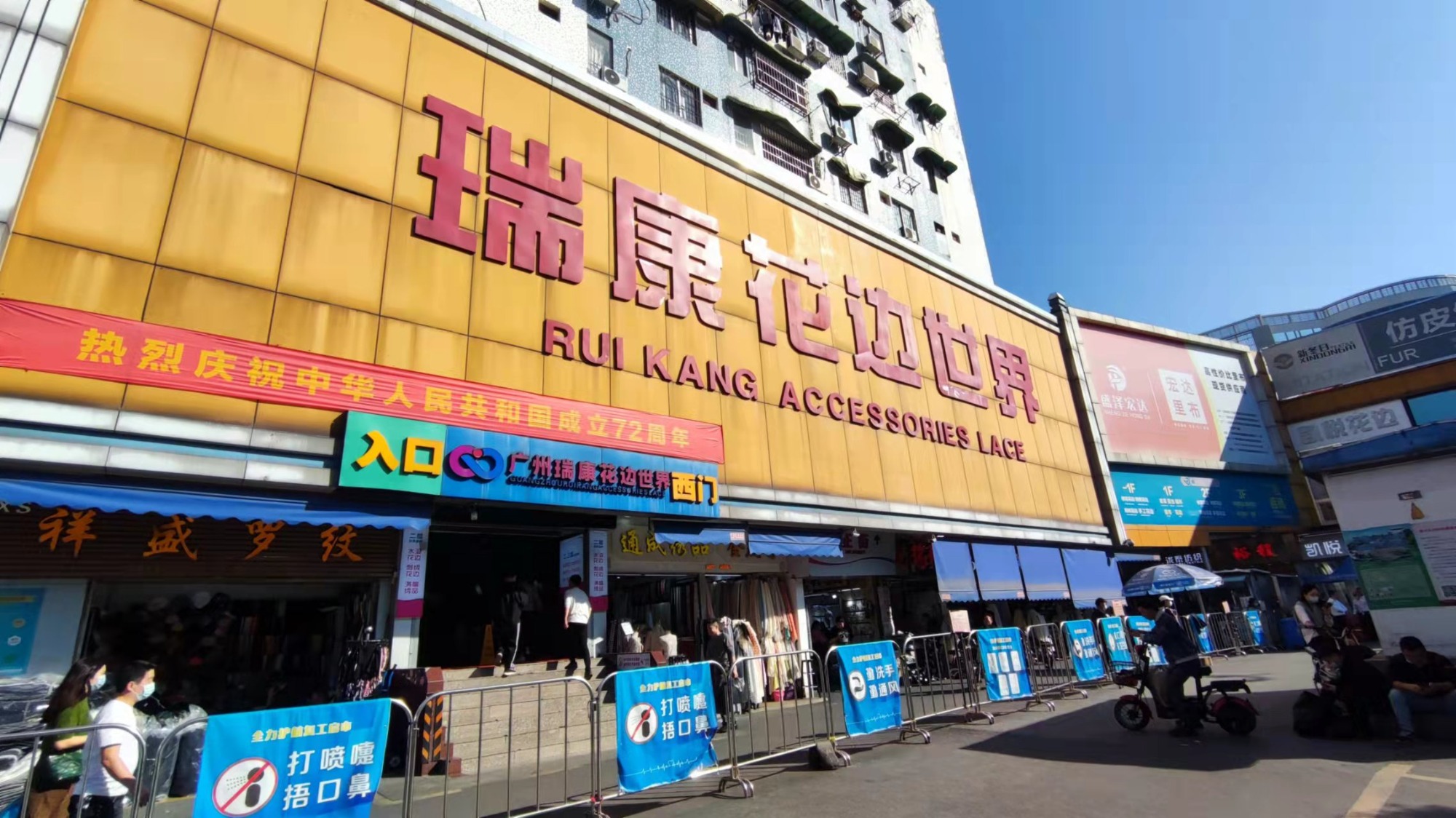 It's nearby to Guangzhou China textiles&acceries market, and it has three floors,
The first floor is for accessories, like embroidery lace, cotton laces, buttons, tassels, brooch, patches, etc.
And for the second floor is Bead lace, chemical embroidery fabrics, sequin fabrics, glitter embroidery fabrics, French laces, Swiss laces, cord laces, silk fabrics, tulle fabrics, etc.
And for the third floor is French laces, cotton laces, code, embroidery fabrics, etc.

4. Zhongdajiuzhou Textile Trade Plaza
Add: Ruikang Rd, Haizhu District, Guangzhou, Guangdong Province, China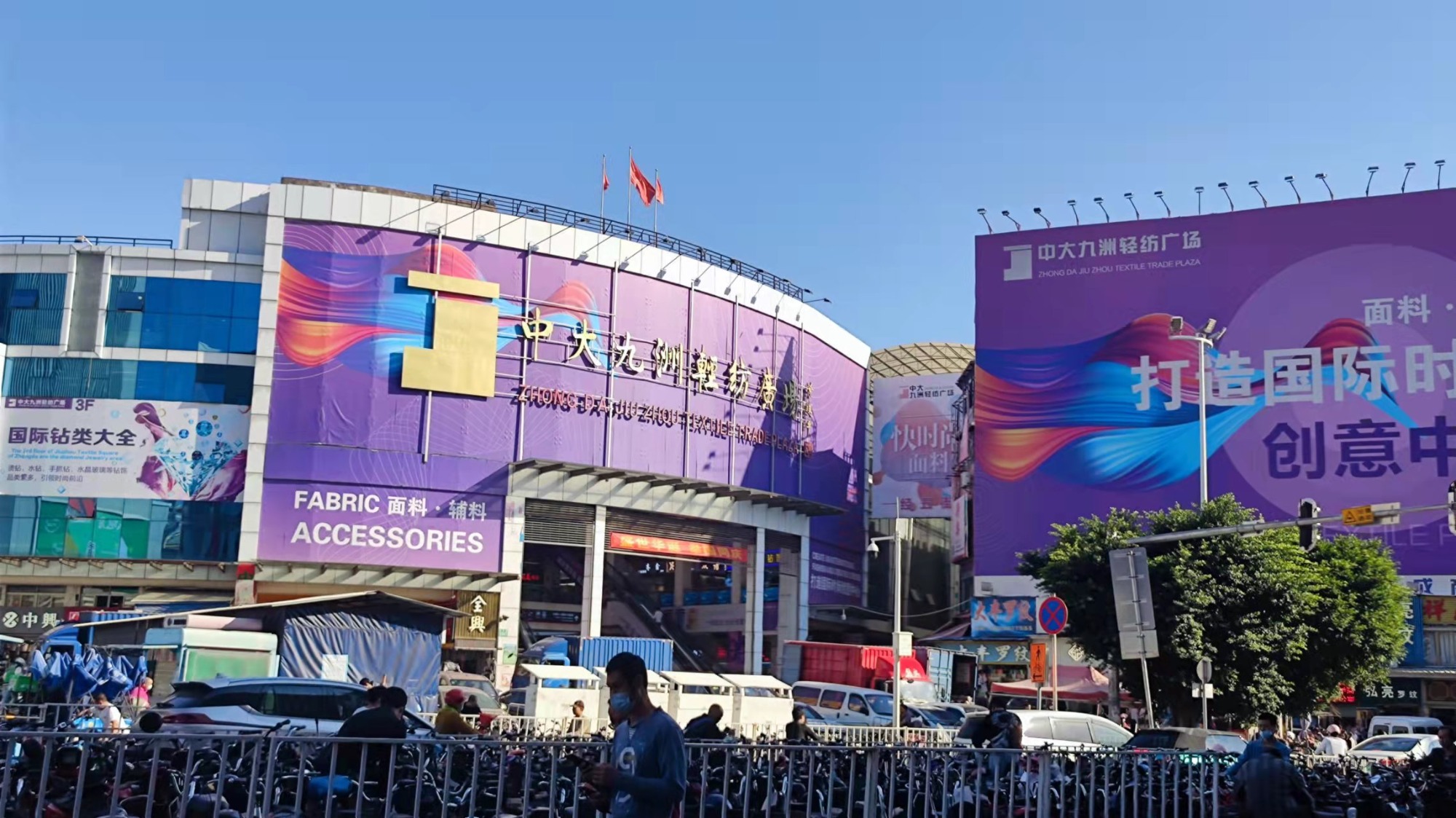 Zhongda Jiuzhou Textile Plaza covers an area of about 30,000 square meters, with a construction area of about 70,000 square meters. It has nearly 2,000 textile shops and business offices. It is another large-scale professional textile market after the Guangzhou China fabrics & accessories center.
For the market, there are mainly four floors: the first floor is for general fabrics, Stretch satin fabrics, Chiffon fabrics, Cotton fabrics, Polyester fabrics, Spandex fabrics, Jacquard fabrics, Linen fabrics, Compound fabrics, etc. The second floor is used for accessories,
The third floor is for home textiles, and the fourth floor is for business office buildings.


5. Fur exhibition centre and Juhai
Add: Ruikang Rd, Haizhu District, Guangzhou, Guangdong Province, China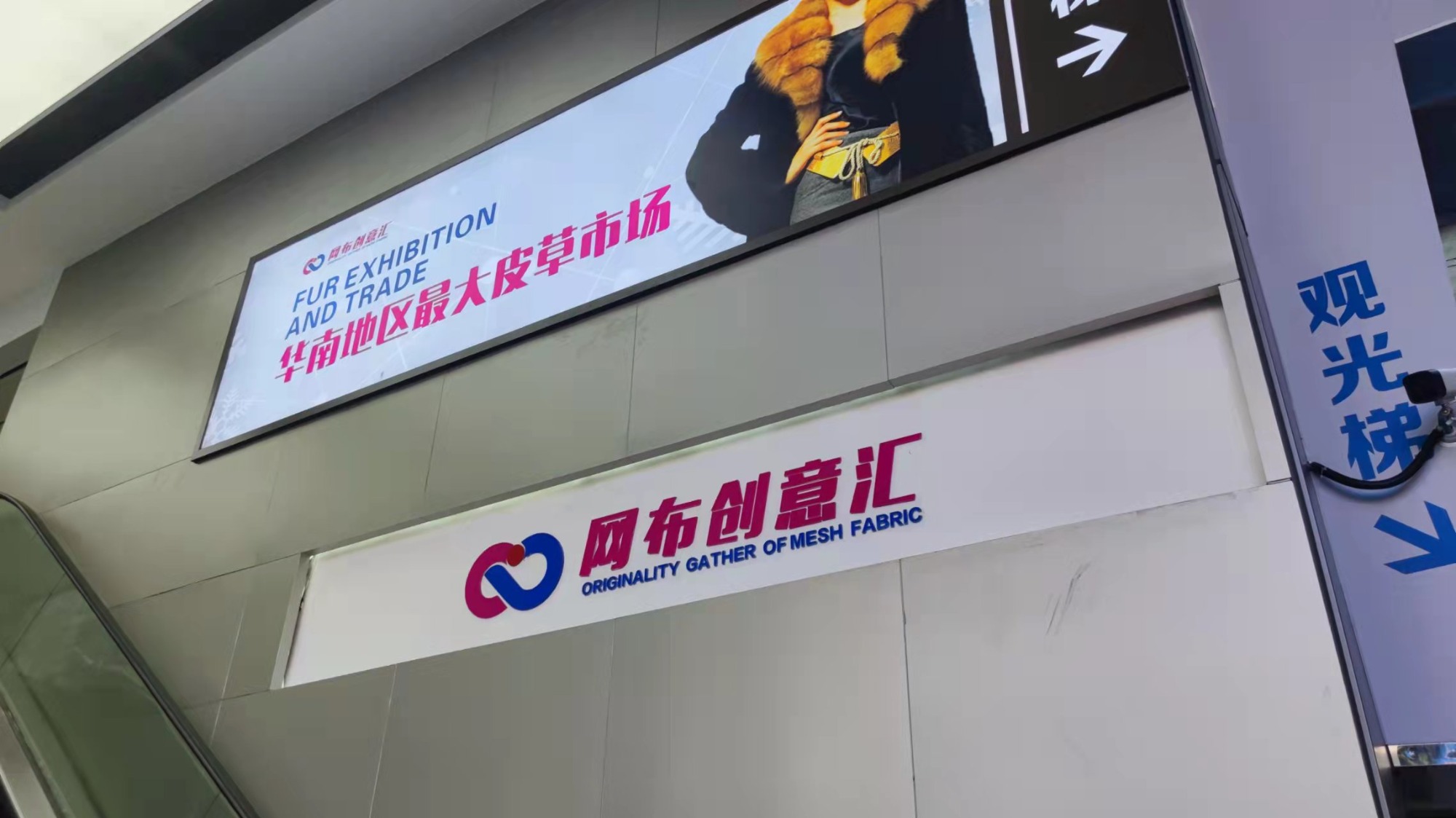 Fur exhibition and trade center and Juhani fashionable professional fabric street are in the same building, From the right side, we can go upstairs to the Fur exhibition center. We can find All kinds of fur fabrics, fur collars here.
6. Juhai fashionable professional fabric street
Add: Ruikang Rd, Haizhu District, Guangzhou, Guangdong Province, China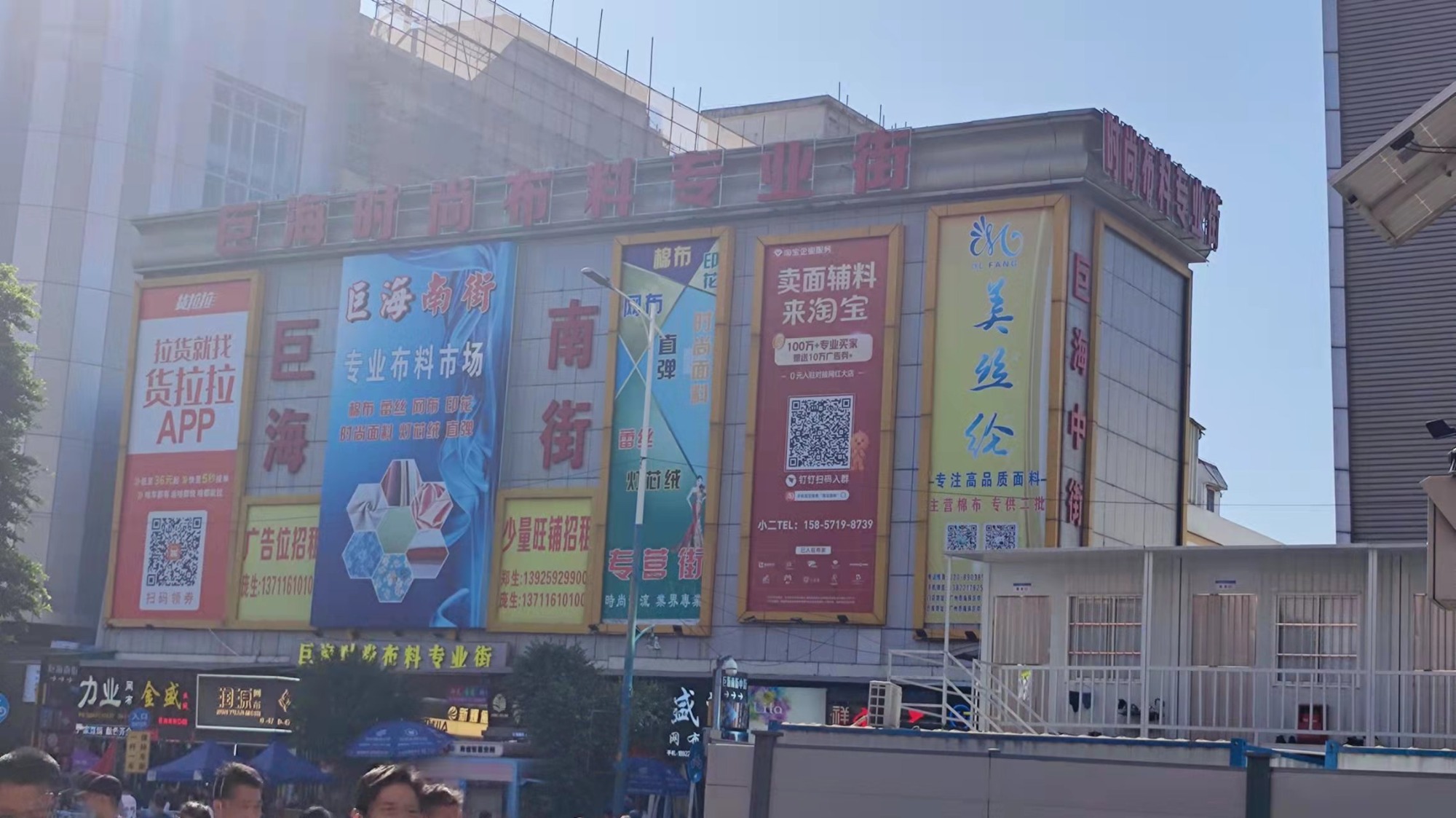 As for Juhai fashionable fabric street, we can find Stretch satin fabrics, Chiffon fabrics, Cotton fabrics, Polyester fabrics, Spandex fabrics, Jacquard fabrics, Linen fabrics, Compound fabrics, etc.

7. Jiahe Textile Exhibition Center
Add: Ruikang Rd, Haizhu District, Guangzhou, Guangdong Province, China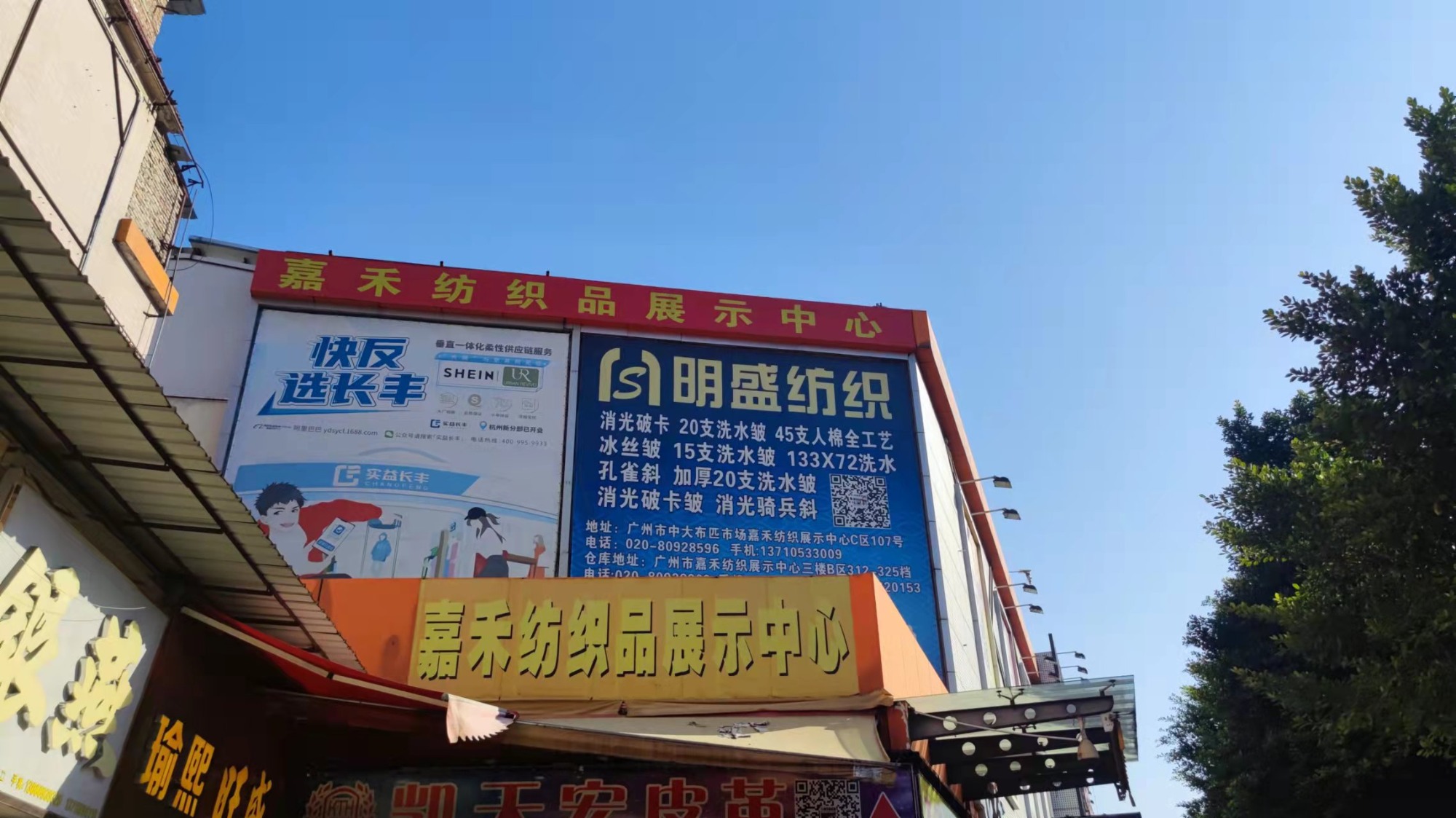 As for Jiahe Textile Exhibition Center, it is composed of some streets here, and we can also find some different fabrics, like printed fabrics, jacquard fabrics, dress fabrics, shirt fabrics, blended fabrics, etc.


8. Yinling Leather Exchange Center
Add: Ruikang Rd, Haizhu District, Guangzhou, Guangdong Province, China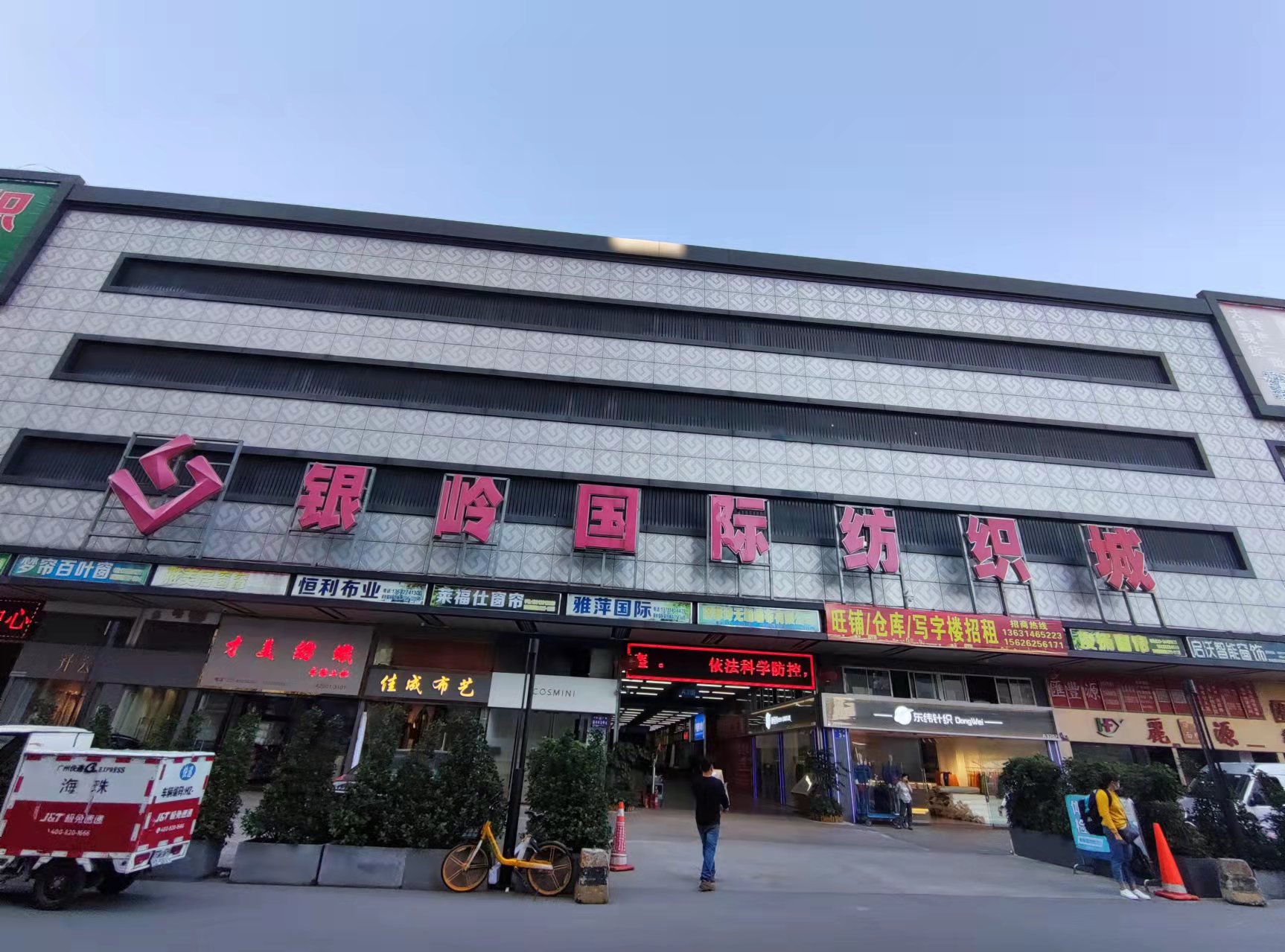 The Yinling Leather Trading Center has five floors. On the first floor, we can see some shops with woolen fabric. And most of the shops here are closed due to the covid-19.
so it looks a little desolate.
Then the 2nd to 5th floors of this market are warehouse areas.
Which you can buy some stock goods here also.

9. Shunjing street market
Add: China, Guangdong Province, Guangzhou, Haizhu District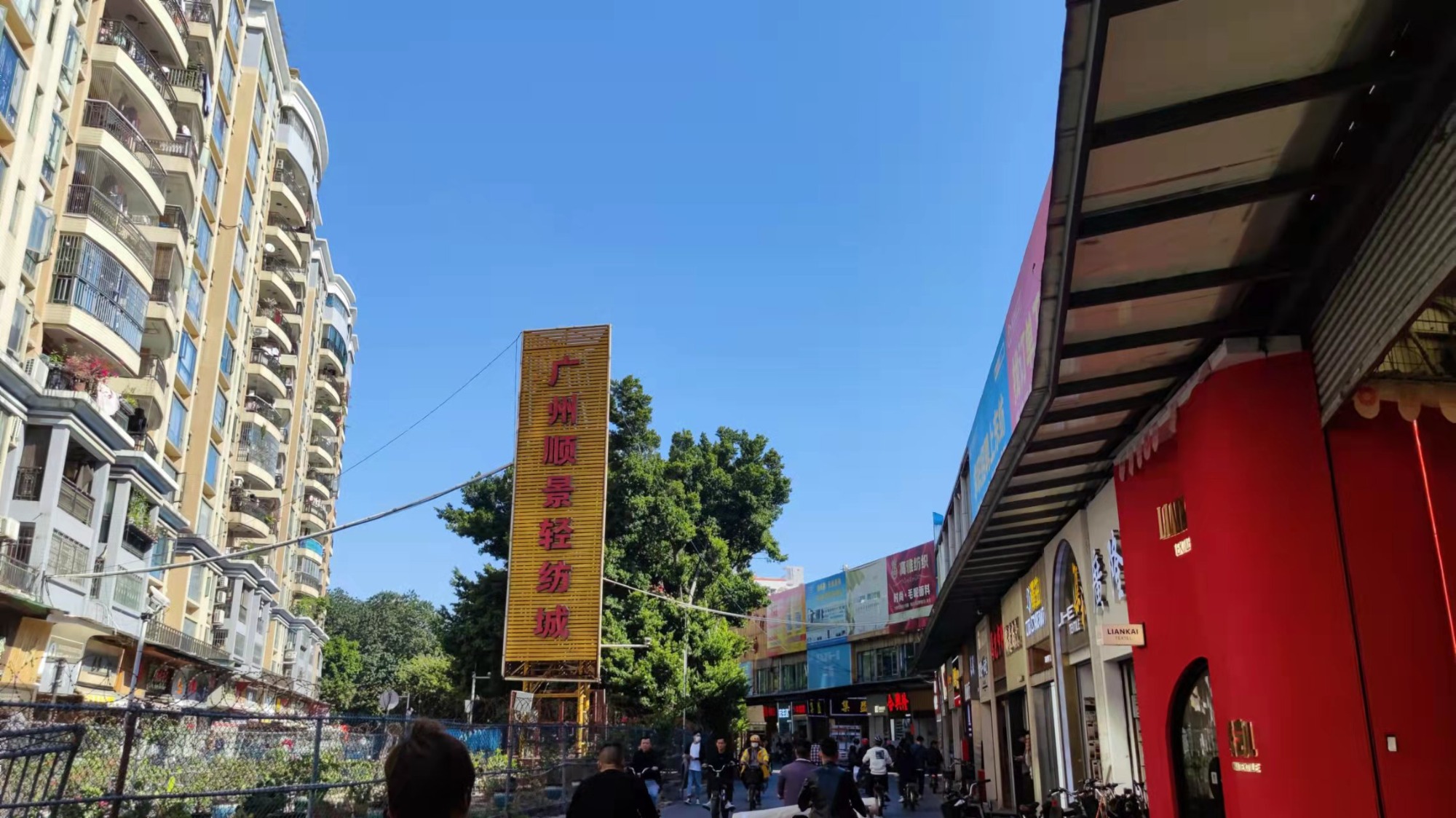 This area is composed of various types of street markets, you can find Velvet fabric, Satin fabric, Cotton fabric, Polyester fabric, CVC fabric, TR fabric, Mesh net tulle, etc. And just nearby this street, we can find one professional denim fabric street, you can find every different quality material for denim depending on your needs.


10. Chang Jiang Curtain Cloth Center
Add: China, Guangdong Province, Guangzhou, Haizhu District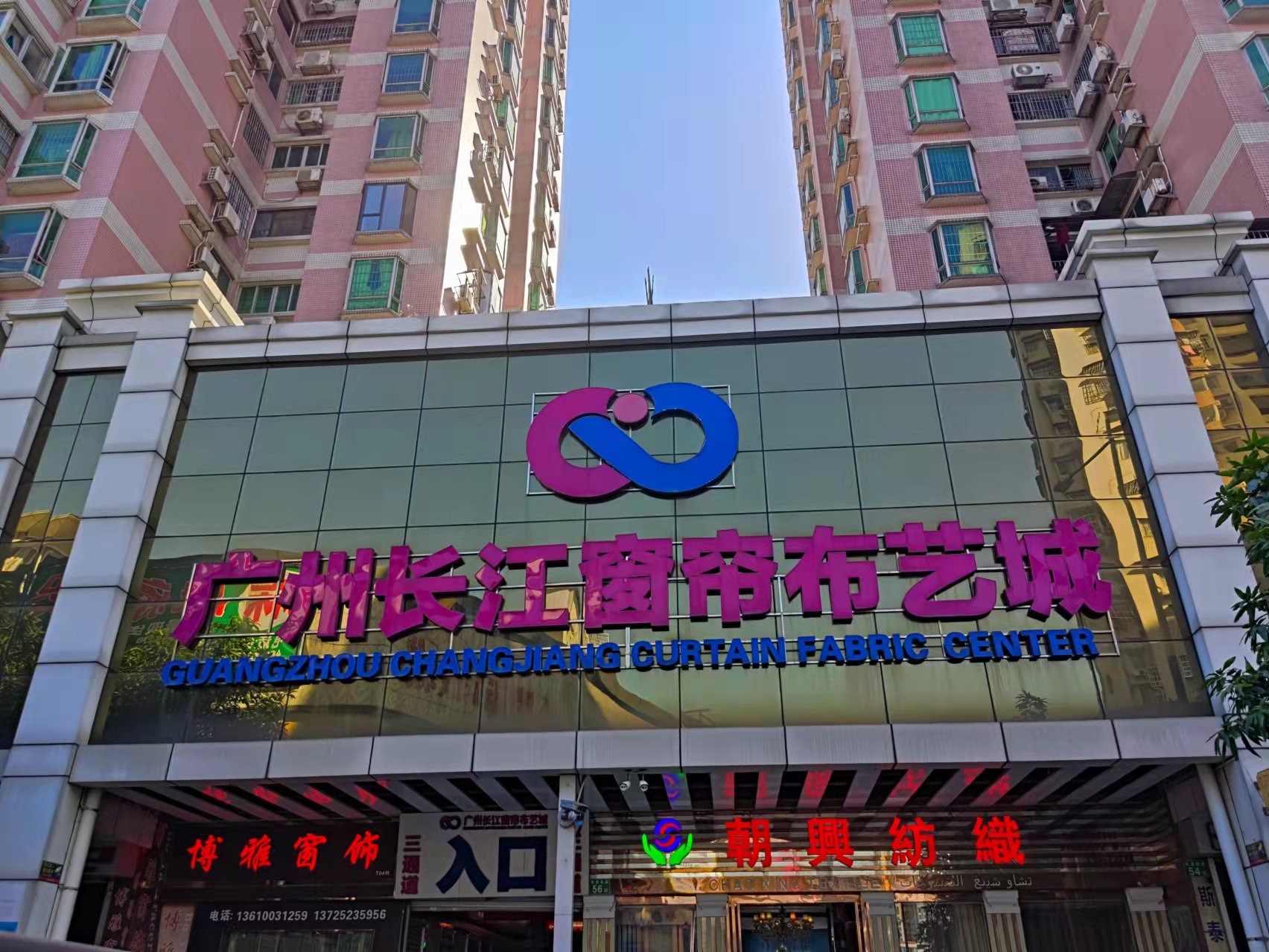 There are two floors in this market. The first floor is for curtain fabrics, sofa fabrics, sheer fabrics, voile fabrics, hotel fabrics, curtain accessories, etc. The second floor is for home textiles, hotel fabrics, curtain fabrics, etc.

That's not an easy job for you to visit the market without a guide. In addition to the maze alike market, another problem you will face is very few suppliers can speak English, they can simply type out a price on a calculator, but it will be difficult to do further discussion, such as fabric composition, in stocks or not, fortunately, our JAZ TRADE is the professional sourcing agent in Guangzhou, and we can help you with guiding, interpreting, sourcing, exporting. you can spend a few days sourcing fabrics and collecting samples, pay deposits sometimes, but leave the extra works to us. we can handle all the works here and ship it to you.

So the above-mentioned markets are those we can source and check for you, indeed, there are more markets in this area but for the time reason, we can not finish all in one time. So in the future, we will show you more other good wholesale markets in Guangzhou also,
And If you have fabric purchasing requirements, you can contact us.
As the most professional Guangzhou sourcing agent, we provide a one-stop sourcing service, which includes goods sourcing, warehousing, quality checking, order following, custom declaration china, shipping, etc. And If you want to come to Guangzhou to check the markets in the future, you can also contact us. We also have services such as airport pick-up, translation, and market guide.

So That's all about today's blog. It's time to say goodbye now, and See you in the next blog.

JAZ TRADE, the best Sourcing agent here in Guangzhou China
▶ Our One-Stop Sourcing Service:
✅ Product Sourcing
✅ Translation
✅ Wholesale Market Guide
✅ Order Following
✅ Quality Checking
✅ Warehouse
✅ Loading Container Control
✅ China Custom Declaration
✅ Shipping Save your time and Money.
? email us: sales@jazchina.com
✔️ +86 13708208472 WhatsApp & WeChat
? Visit Our Website To Get Sourcing News https://www.jazexport.com/
? Follow JAZ TRADE On Instagram https://www.instagram.com/jazchinatrading/
? Chat With JAZ TRADE on Facebook https://www.facebook.com/jaztradingchina/
? Learn More On LinkedIn https://www.linkedin.com/in/jaztrade/
? Follow JAZ TRADE Youtube Channel https://www.youtube.com/channel/UCAPTWDxvz_ZDsA3L9tbjK-w
? Twitter https://twitter.com/JAZCHINA2
? Visit JAZ TRADE Guangzhou Office (Nearby CANTON FAIR complex) B-1006, South Tower, ZhongZhou Center, NO.3 of Tingyuan Road, HaiZhu District, Guangzhou City, Guangdong Province, China

#chinasourcingagent



Leave a Reply
Your email address will not be published.Required fields are marked. *